Ekologi Perkembangan Anak, Ekologi Keluarga, Ekologi Sekolah dan Pembelajaran
Keywords:
Ecology and Socialization, School Ecology, Learning Ecology
Abstract
This paper examines three main themes. First, ecology and socialization. Second, family ecology: parenting and non-parenting. Third, school and learning ecology. The method of writing this paper uses literature studies that are relevant to the theme. The findings of the study state that child parenting is caring, a learning process by carrying out a series of decisions regarding socialization to children which include activities of giving instructions, feeding, clothing, protecting children until their growth and development. In parenting, the goal is to increase parental knowledge and improve skills in caring for their children. It is necessary for families to provide as much socialization or moral education as possible for teenagers in pistil village. so that all children's behavior brings behavior that reflects a good personality. Subsequent papers need to comprehensively examine ecology from various perspectives and refer to the latest literature.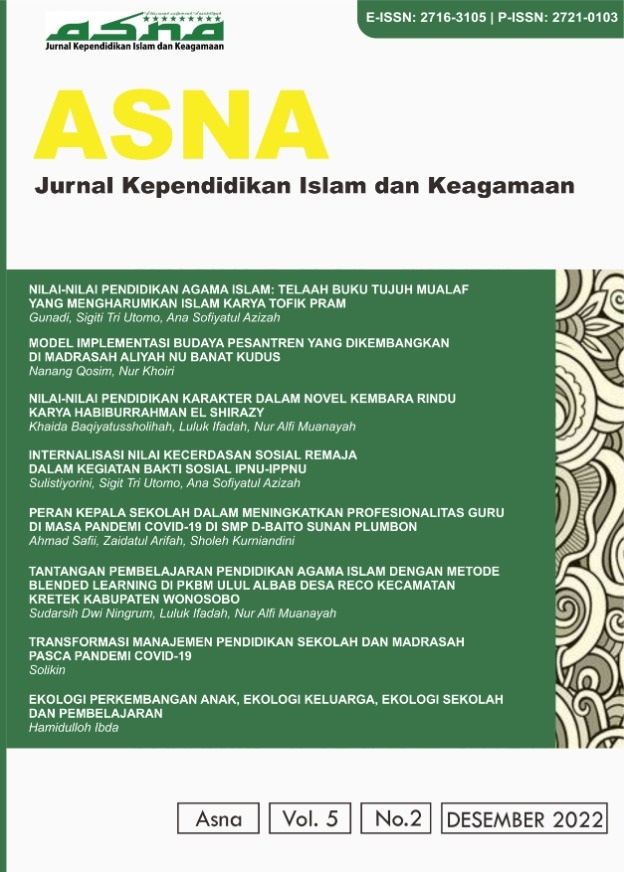 How to Cite
Ibda, H. (2022). Ekologi Perkembangan Anak, Ekologi Keluarga, Ekologi Sekolah dan Pembelajaran. ASNA: Jurnal Kependidikan Islam Dan Keagamaan, 4(2), 75-93. Retrieved from https://ejournal.maarifnujateng.or.id/index.php/asna/article/view/98